We started from Cat Ba pier with a small boat with two guys on it, a captain and a ship-boy. Both of them friendly but without english language skills. Anyway communication can be done be a smile and finger signs. Benefits: just both of us and no other crowd around, especially no french guys :) We cruised relaxed through Lan Ha bay and after 1.5 hrs we got a call for lunch. Fantastic delicious food prepared on the ship.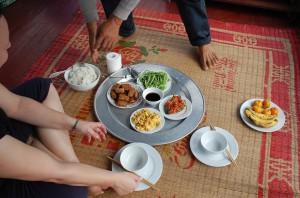 cooked on the boat
I had a nap after that and when I opened my eyes we were into the Ha LOng bay. Amazing landscape. Must be more than 2.000 rocks. A labyrinth of stone. We stood on the deck and watched the beauty of this region. UN world heritage since a couple of years.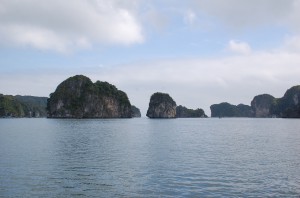 Inside Halong bay
Later on we had a stop for swimming but it wasn´t that sunny any more so I was not brave enough but Mandy dived into the sea and swam just around the boat. Really great my dear…. And as a team building event we did kayaking. Even it was our first kayak cruise we did very well. Crossed a lot of limestone caves and tunnels and came back to the boat after one hour. Unfortunately a lot of waste in some of the small bays.
The sky was a little bit cloudy so no chance for a nice sunset to view. We stopped to anchor in a bay and while the crew prepared our bed we had a beer and were talking, just smooth and relaxed.
Trip was organized by Tuan Sailing Cat BaIf you come to Cat Ba and need a reliable person to organize a tour for you asked to Tuan.
So bus to Hai Phong is waiting…..