Just a 3 hrs ride by bus :) Arrived 1 pm which gave us the whole day. Hotel is nice and clean. Mostly traveller guests. Hoi An is cultural world heritage because of its old ancient houses and meeting halls. And well known for more than 400 tailors. And shoemakers as well. So we started business first. Cultural things must wait :) We entered a shoemaker shop and I was asking if they are just selling shoes or.. answer " we do shoes whatever you want.." Good to hear. I showed the guys a picture of my favourite business shoes and she said " no problem. which leather would you like ? ankle hight ? shape of the top ? " yeah. My feet were measured and the result was … less than 100 bucks. Which seems really good for a pair of handmade shoes. Mandys eyes became wider and she said "I would like to have a pair high heels…" To make the long story short we´ll go today for the first fitting :)
Next stop was at tailor. No clothes for me even the lady tried to force me slightly. Coz my tailor is in Bangkok. Mandy was measured again and I helped her out to find some nice fabrics.
Later on we met the norwegian girl again and had a beer together at "before and now" bar. Time for next appointment, pedicure at 8 pm. Very professional and I went to bed at 9:30 pm. What a day.
Today after having a breakfast went to the central market. Crowed but interesting. Like these two women selling betel nut ….
women at Hoi An market
We bought our ticket to visit selected ancient places like houses, assembly halls and family chapels. We were not alone :) Most places more than 300 yrs old and they are still in use or look like.Traditional buildings are very long (like 50 mtrs) with living, working and sleeping places. Here is a courtyard in one of these houses. Used for ventilation.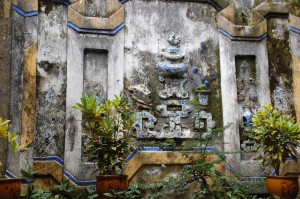 ancient Courtyard
And we discovered the best coffee in Vietnam ever. Brewed with this small metal filter. Strong , tasty (with a touch of chocolate) and very yammi. And cheap. 15.000 dong which is 60 € cents. For Sono – a place to be for you.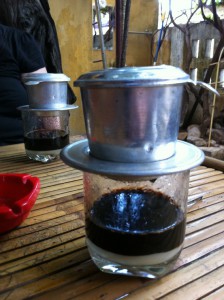 Real Coffee
First fitting for shoes and suits, everything looks very nice. Pick up tomorrow (and carry all items through the rest of the journey…)
Tonight is the night before full moon and no electric light will illuminate the ancient city of Hoi An , only candles and lanterns made of silk. Sounds great and we´ll go later on to watch this.
stay tuned and will keep you updated…..