Last day in Mui Ne. We had really lazy days and and great stay at Mui Ne hills. Mui Ne hills Erik runs this hotel which is really a place to relax. Everything satisfied us, room and pool, breakfast and the staff as well, especially the german manager. All of them were very helpful and attentively.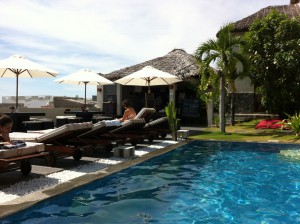 relax area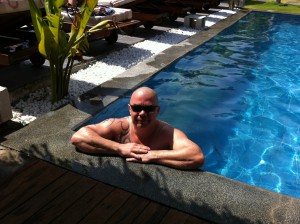 me @ Mui Ne hills pool – refreshing
We had a ride with our AirBlade motorbike :) to watch the famous dunes of Mui Ne. First the red ones than the white ones. And I must say it´s impressive to see a landscape which is can be find usually in a desert like Sahara or Gobi.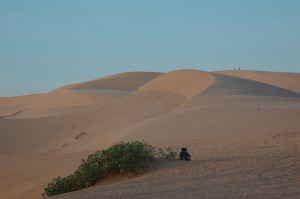 white dunes
Therefor we rented the bike for 24 hrs we went to Phan Thiet as well, as small town closed to the famous beach. A lot of new construction areas along the street and we heard that a Formula 1 race course is planned as well. The whole area will be a place for $$$ people within next years.
Today is the bus to Saigon or HCMC at 1 pm. So let´s see what the city has to offer :)