Hue is the city of the former emperors of Vietnam. They ruled the land until the french invasion and Uncle Ho got the key to Vietnam here in 1945. Lot of history. We started easily with a nice breakfast (included) and rented a motorbike from a local young man we met last night. 5 $ per day is the usual rate here. Traffic is not that terrible as it´s in Hanoi but I took all of my concentration to drive the small bike. But it worked and even Mandy said that she doesn´t fear the ride.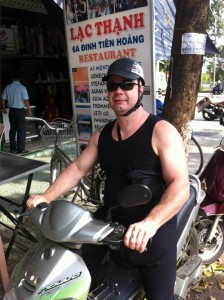 Call a driver
First stop was the Citadel. Built by vietnamese Emperors based on some old chinese buildings. Entrence fee for foreigners 5 $. Not soo much to see it took 30 mins to visit the ruins. Maybe for persons who are interested in historical and/or architectural things. At least nice to see. Next place should be a tomb of one of the emperors. We just had a silly city map, worthless. So we started on the bike southwest direction as mentioned in the travel guide and met two others guys (with a good map) so we just followed them.
Parking for the bike should be 10.000 Dong. Too much so we paid 5.000. You have to bargain whatever you want. The tomb was nice to see got some ideas :)
We drove back to Hue to have a quick lunch and decided to visit a location which is recommended by our travel book for authentic cheap food. Owned by an old deaf-dumb man. And really it was great food. We rolled spring rolls by ourself and had shrimp pancakes. Really yammi. And paid less than 5 €.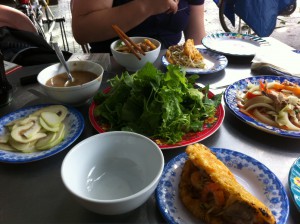 Awesome food
We gave the rental bike back and went straight to bed for a nap. Just one hour because we´re on vacation. But not enough time afterwards to get the last sunlight on the pool. Doesn´t matter we´ll spend the whole day tomorrow here…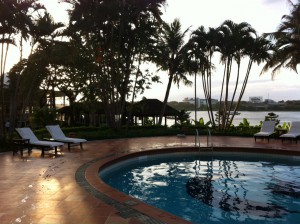 Pool at Century Hotel
Found even in our tourist area nice local food for a reasonable price. A big market on the banks of the parfume river took place and it was fascinating to see how what people do for leisure. Lots of food and stalls with items. One more cocktail than in the famous DMZ bar DMZ bar at Hue. The plan was to leave after a cocktail and coffee but we met the guys again (from the ride) and had a nice chat with Michelle and Nigel (both Canadians) until 11pm and had some more beers for sure. What a pretty nice day.