We arrived around 7 pm at Sai Gon. Sai Gon is a part of HCMC and not HCMC itself. Hotel is just around the corner where the bus dropped us. Well it is clean and nice but unfortunately the room was very small. Even I booked a Superior room in advanced we had some discussions with the owner and she promised us we´ll get a discount and a new room for the last night. Hotel is Seventy Hotel All hotels in the backpackers area seem very small (most of them are called mini hotels) coz they´re not made for being a hotel. We are lucky we have an elevator. Using the stairs is not easy for me as you might see :)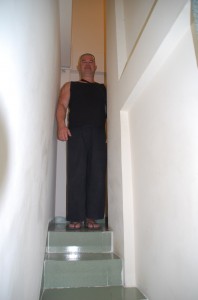 small stairs
But we had a good sleep after a local dinner. Next day starts with a walk for all highlights at 9 pm. The Ba Tenh market, the Notre Dame church and the main Post office. We saw the hotel Rex were all foreign journalists stayed during the war in Vietnam and the Palace of Independence war the war was ended. A tank (made in Russia , T 54) brake the fences as a symbol for the end of the agressive war. Documented in the War Museum which we visited as well. So many historical places to see. The building where american helicopters flu out the last CIA agents and US citizens (helicopters and tanks in the garden as well….) and a lot of monuments to remain the heroic fight.
Biggest challenge at all was the traffic. More motorbikes then in Hanoi (but most of them follow the regulations means stop at red traffic light…)
We hired a motorbike taxi and I made a video during the ride. Will share this later.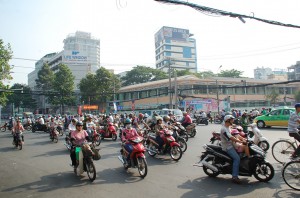 traffic @ Sai Gon
After dinner we were sitting in one of the parks watching people doing sport (inline skating, playing with a shuttle cock or doing Kung Fu like martial arts) It was quite to sit not far from the noisy roads but relaxed and quite. The backpackers area reminds me to Kao Sahrn road in Bangkok but more local people live here and it´s not so busy and commercialized like in BKK. Not too many bars with girls (just a few of them) but a lot of street dealers which offer sun glasses ("very cheap..") or postcards and other tourist stuff. Means 500 times a day to say "no thanks already have/bought …"
Today we hired a bike taxi to see the pagode of the Jade Emperor the highest deity in Taoism. You will see what you get if the Jade Emperor decides that you lived your life well and honorable. And you see what will happen if not. The 10 hells of Taoism are symbolized by daemons. In front a small pond with lots of turtles. You can buy them, engrave your name and your wish and if your are lucky your turtle survives and grows and wishes come true. I saw a lot of broken dreams…..
HCMC is more the business capital. On each corner business, the city breathes business. And more structured than Hanoi. Pricing level is higher for most items. But more economical pulse in this city. Anyway 2 days are enough.